Today we got up earlier to get the chance of actually getting into the Forbidden City. Everybody was on their way to work, so we managed to experience Chinese morning commute. There was a sea of people in the subway, it was like a well-oiled machine. The subway was full of people, but there was absolute silence, like if it was a rule that you cannot talk or make a sound in the morning.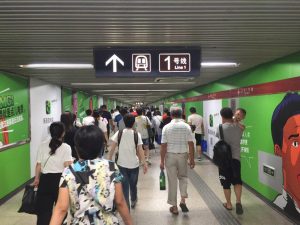 When we got out of the subway, it was clear, there is a race for the tickets. Yesterday all 80 thousand tickets were gone before 10 o'clock, and it was about 9o'clock by the time we got off the subway. There were some people running, but mostly everybody tried to push forward to get to the ticket office. By the ticket office, although there were several lines, people were cutting in front of each other, and everybody was nervous, that they would close the ticket sales in front of their nose. We made it, we got our tickets, and it was such a relief. We were sweating, we were tired, but we made it!
In the morning, it was already as warm as at the warmest point of the day before, the sun was burning our skins despite the thick layer of sun lotion. We entered the Forbidden City, and it was so majestic. Huge buildings, with huge squares in front of them, so detailed and so beautiful. While following our audio guide (there was Hungarian but no Danish 😛 ), we got the chance to get to know more about the different functions of the building and its history.
At some point, we found shelter from the sun by sitting by a wall, trying to get a break when a group of military dressed kids shown up. When they were dismissed by their teacher (we assume), they all started hurrying towards us, and they were standing by our legs, and they were looking at us, like little minions. We did not understand what was happening, until a brave girl stepped forward with a camera in her hand, and asked if she can take a picture with Simon. Simon said yes and jumped off the wall to take a picture with the girl, suddenly the rest of the kids were pushing towards him, so they can take a picture with Simon. Once they were done with him, they all turned to me, and suddenly I was the star of the photo session. We were told that people, who haven't seen white people before, get super excited and they will take pictures of us, which happened before, but this was extreme. We were speechless, we had a good laugh. When we thought they have left, a few boys came back, all shy, and took them some time to ask me if they could take a picture with me, which I of course said yes to. We later felt a bit cheated on, when we saw them taking pictures with other white people. They were so cute though!
We continued our trip through the Forbidden city, where the empty spaces got smaller and smaller, and suddenly the 80thousand visitors didn't have space to spread out. It was warm, it wasn't possible to move without bumping into someone, and it was definitely not possible to have a look at anything, because there were always a wall of people pushing through to see it. When we finally got out, we decided to go back to the hostel, cool down, and get a break from all the people.
After we took a nap under the A/C, and got a bit fresh, we continued our day towards the CCTV building, which is an enormous A shaped building of the Chinese Central TV. When we got there, we were amazed, we saw a totally new side of China. Huge glass skyscrapers all around, even bigger traffic, it was modern China. We got dizzy by just looking at those buildings.
Then we decided to visit the shopping/bar street in an area called Sanlitun, where again, we were presented with an absolutely new and modern side of China. We wanted to get some dinner, but we realized we didn't have enough money, so we started to hunt for ATMs. We couldn't withdraw money from the first 5 ATMs, so we got a bit worried and nervous, but then finally we found CITTI Bank, where we managed to withdraw money, it was a relief. The dinner again was delicious: spicy beef short ribs, kimchee with some noodles and cheese, beef fried rice and curry vegie filled deep-fried pastry accompanied by Chinese beer.
Now we are looking forward to tomorrow, as we are going on a 7km hike on the great wall.
Love,
Eszti & Simon