Today was the big day for our Hike on The Great Wall of China. We had booked a 7 km hike through the hostel. We wanted to book a 10 km hike at first, but the staff asked if we were completely sure about that, so we decided to go with the 7 km trip. We got up a bit before 7 in the morning to get ready so we would have time to find ourselves some lunch somewhere before leaving, which we ended up being able to buy in the restaurant next door where we are having breakfast too.
We left the hostel by an airconditioned bus and went on to pick up one more group of people, before leaving for the entry point of our trip at the Gubeikou tower. It took a few hours to get there, and on the way our guide told us a bit about the history of China, the different dynasties and the history of the wall. When we got to Gubeikou, two more guides were waiting for us, who were going to be with us on the hike itself, while the other guide would take the bus to the pick-up point in Jinshanling West tower. Before we took off, she asked if we were sure, that we wanted to walk and not take the bus with her, but of course we were – we felt ready and excited!
We walked through a small town with our guide and up quite a few stairs to get to the Gubeikou tower, at which point we were already huffing and puffing a bit. We thought we would be ready for the mountain trip after moving to a new apartment on the 3rd floor just last week, but it is a lot harder when it Is 36 degrees outside. From the tower we started the actual hike, the first part of which should take about 40 minutes (2.5 km) followed by another 20 minutes (0.5 km) to where the bus would pick us up. From this point, it was possible to do another 5 km  (2.5 km back-and-forth) trip. At first we thought it went quite well, but quickly we started falling behind the group, along with another couple, and after about 1.5 km we both felt like giving up! It was extremely hot, and hardly any wind, and with out breakfast being nothing but three slices of toast with an egg and some watermelon, we quickly ran out of energy. We took more and more small breaks to get water an some snacks, but as we walked on I started feeling quite sick and had to sit down for a while. We took turns being in the end with the other couple from Italy, while one of the hiking guide stayed in the back to make sure we all made it. She was very nice – not trying to push or hurry us at all!
At the point where we only had a few hundred meters left, a lady came walking down from the first tower we were supposed to have our lunch break in, who spoke English. She helped us and motivated us to give it all that we had for that last little stretch, and eventually we made it! Completely exhausted, but we made it! At the tower we could buy ice-cold water and Coca-Cola, which was very much needed at this point, even though it was the most expensive we had so far at 20 (about 18 kr) yuan for the water and 20 yuan for the Coca-Cola. We sat down in the shade of the tower, where there finally was a bit of wind to cool us down too, and I decided to have some of my lunch to regain some energy for the last stretch. The lady that helped and motivated us told us, that it was only 20 minutes of slow walking to the next stop, which felt more do-able than the first 40-minute stretch that took us more than an hour.
As we were about to pack up and leave, the lady started showing us some souvenirs, and seemed very offended when at first we said no. She then came back with t-shirts, and as she was more or less the reason we made it, we decided to get some. Again it was time to haggle, as she wanted 120 yuan per shirt. In the end we paid 180 yuan (170 kr) for the 2 shirts.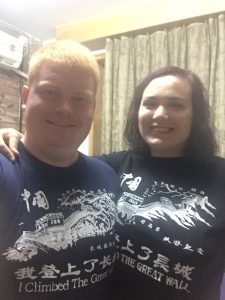 We walked on from this stop, and having gotten some energy, everything was much easier from this point. We managed to cover the next stretch in just under 20 minutes, but at this point we decided that we had enough, and stayed in this tower to have our lunch and relax in the shade before having to go back with the bus. Some of the people who walked the extra 5 km said, that it was more or less the same as what we had already seen.
On the bus on the way back we managed to get a good nap and recover a bit on top of the hike, and we are now back on the hostel, getting ready to go out for some dinner and perhaps a few drinks somewhere.
Tomorrow we will sleep in a bit, and perhaps go to have a look at the Summer Palace. The weather has been great, but warm, so far, but more unstable weather is approaching, so we will see how it looks tomorrow.
Love,
Eszti & Simon