Today we got up around 7 to get ourselves ready and have breakfast before our tour to see the Terracotta Warriors. Despite our room not being very nice, we had a good sleep, and the breakfast in the skybar at the hostel was quite nice too.
We took off for the day trip, first being guided to another hostel for pick-up, and then driving for around 1.5 hours by bus with 15 other people from around the world to the Terracotta Warriors. When we got there, our guide told us, that there are three pits in there. All three pits are active archeological excavations, so outside of visitor hours, people are working on unveiling more and more warriors. We started in pit 2, which is the one where the least work has been done yet. A big building was covering the pit, and as we walked in, we mostly saw a big hole in the ground with some strange pattern dug out. Our guide told us, that the emperor at the time had made a structure to bury the warriors, that had collapsed in a big earthquake at some point, so the entire excavation site is one big puzzle of Terracotta warriors and horses that archeologist from around the world are trying to piece together.
The whole thing was uncovered by a local farmer, Mr. Yang, who was looking for water on his property. When he discovered what he had found, the Chinese government gave him 10 yuan, which was a lot for him at the time, in the 1970's. The old emperor at the time had ordered the construction of the warriors about 2000 years ago, which makes it incredible to look at how relatively well preserved all of these figures are. They are called Terracotta warriors because they are all made as warriors in traditional war gear of that time, and they are made from a mixture of terracotta clay and sticky rice.
We spent a few hours walking from pit 2 to pit 3 and then to pit 1, gradually getting more and more impressive as we moved along. In pit 1, they have uncovered some 2000 warriors, but they expect to find more than 8000 warriors in all three pits when they are done. To finish the excavation and reconstruction of the warriors will take 40-70 years.
After we looked at the pits, we had a traditional Chinese lunch, where we all sat around a round table with a spinning plate in the middle, on which lots of different dishes were placed. It was very delicious, and a nice way to eat as it is easy to talk to everyone around the table.
After lunch, we made a quick stop by the emperors tomb, which turned out to just be a hill a few kilometers away, which the guide didn't think we should spend too much time on. No-one has entered the tomb partially because it is said to be filled with mercury but also because of superstition. It is believed that the emperor had the army of warriors build close to his tomb and his tomb filled with mercury as he thought he could keep ruling china after his death. To keep his plans a secret, he killed the people that were working on making the warriors and the tomb. There has been talk about opening the tomb at some point, but not in the near future. It all sounds like something out of the Mummy movie.
As we came back to the city, some of us had asked our guide to make a stop by the east gate of the Xi'an city wall, as we would like to go for a bike on the wall. She was so nice to buy the tickets for us and get us through the line to security quicker as she was a guide. Eszter and I decided to rent a tandem bike, and so did two other girls from Italy and Spain. Another guy from France and a girl from Germany decided to ride normal bikes. We set off on a really nice trip around the wall on our bikes. Quite calm with some traditional Chinese music playing through speakers around the wall. We stopped a few times to take pictures, and after about one and a half hours we made it to the south gate, from which we walked back to our hostel.
At the hostel we had dinner and a few drinks in the sky bar, and at some point we were invited to play a game. We were divided to teams with one Chinese person and one westerner on each team, and then we had to move marbles and beans with chopsticks from one end of the table to the other. It was a super fun game, but both Eszti's and my teams lost, so we had to drink a punishment shot, which was a Chinese medical liquor. Very strong, but tasted quite nice.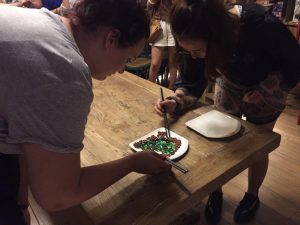 Tomorrow we are planning on seeing the great goose pagoda and the big mosque of Xi'an, before we have to catch another bullet train to Shanghai.
Love,
Eszti & Simon