We arrived at our hostel around 22:30 last night, and just as we got off the metro, it had started raining and a huge thunderstorm was passing. Luckily we only live around 5 minutes from the metro station, so we didn't get completely soaked this time. Our room is really nice this time, and the best we have stayed in so far.
We got up this morning around 8.30 and quickly got dressed and ready to go. After a quick breakfast in the hostel lounge, we set off to the Bund. The Bund is the waterfront on the west side of the Huangpu River, where a lot of the older buildings are found. As Shanghai has had a somewhat turbulent past, it is very architecturally different from both Beijing and Xi'an. There is much less traditional Chinese architecture, and the Bund in particular resembles a bigger European city. This certainly also makes sense, as several European countries had their concessions around Shanghai for many years, and were responsibly for many of the buildings in Shanghai today. When looking across the water, the sight that meets us is more like the New York skyline with big fancy skyscrapers and glass buildings.
On The Bund it is possible to enter most of the buildings, so we went in to have a look a few places. Particularly the Hongkong Shanghai Banking Corporation building is very impressive with a big mosaic in the ceiling right inside the door. I tried to take a picture there, but was quickly stopped by a security guard.
We continued along the Bund and took a shuttle ferry across the river to the Pudong side of the water, and we set off to have a closer look at the relatively new Shanghai Tower. We checked how much it would cost to go to the observation deck, but at almost 200 yuan per person, we decided to skip that for now. In stead we went in to have a look, and checked how high we could get by escalators, but unfortunately not higher than the 5th floor, which is only around 1/20th of the way up. Shanghai Tower is the worlds second tallest building by height to architectural top, and the worlds third tallest structure with its 632m. It has the worlds highest observation deck within a building on level 121 at 561m and the worlds fastest elevator at 74 km/h. From Shanghai Tower we walked under ground to the Jin Mao tower, where we had lunch. From here we walked to the Shanghai World Financial Center and had a look around.
After looking around these majestic buildings, we walked on a raised walkway towards the Oriental Pearl Tower, which is the funny looking concrete tripod with some large spheres hanging from it. Here we also decided to skip the observation deck, and just had a look at the Shanghai historical museum in the basement, which turned out to be a really interesting walk through the history of Shanghai. At some point in the museum we sat down to have a quick rest, where we were asked by the family next to us if we could take a picture with their daughter, which we of course said yes to – and this time we also got a picture ourselves.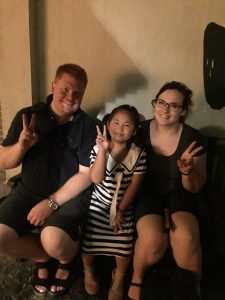 When we had enough of the Pudong side, we took a metro to the French Concession area, to have a look around, and as we came out of the metro, it was like stepping into a French city. The architecture looked nothing like what we had seen previously in Beijing and Xi'an, and we almost felt like we were walking around in Europe again. We had read about a nice restaurant in the Lonely Planet guide book, but due to a slight map-misread, we ended up at a different restaurant, that turned out not to exist anymore. In stead there was a cocktail bar, where we had a drink and returned to our hostel. On the way back, we had looked for restaurants in the guide book somewhere close to the hostel, and we found one that sounded nice.
It was quite easy to find, and just about 5 minutes walk away. This restaurant was supposed to be more inspired by the Sichuan province, and we therefore expected a bit more spicy food, which we also ended up getting. At first we entered a corner of the building with pictures of food and one tiny elevator. Normally in Denmark when an elevator states that it fits 13 people, we tend to think "no way". In China this is almost the minimum. When the elevator arrived, an incredible number of people came rushing out from that tiny space, and we also managed to fit as many as the weight sensor would allow.
As we came up to the lobby of the restaurant on the 5th floor, we were given a number and told to wait. As we were waiting, we spotted a sign stating that this restaurant was awarded a Michelin Inspectors' Favourite under 200 yuan (Michelin Bib Gourmand) in 2017, which we didn't know beforehand. The food was absolutely amazing, and even though we had ordered 5 different dishes and two big 600ml beers, we only ended up paying 216 yuan in total (about 200kr).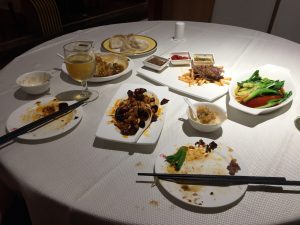 After we finished our dinner, we walked back to The Bund to get a nighttime look at the Pudong skyline, and we brought the tripod along so we could take some nice pictures with the light on all the buildings.
We are now back at the hostel, getting ready to go to bed. We haven't decided exactly what we want to see tomorrow, but we are meeting up with a Chinese friend of ours for dinner tomorrow night.
Love,
Eszti & Simon