Today started slow. We are getting more and more tired, since we are trying to squeeze in as much in the day as possible. We decided that we would go to the Old Town and have a look at the Yuyuan-garden. The garden was absolutely beautiful with its bonsai's, little lakes and architecture. After spending some time there, we found the Huxinting tea house, just outside of Yuyuan-garden, and we decided to have a tea there, since it has been recommended to us.
The building has served as a tea house since 1855, and the pavilion itself was built under the Ming Dynasty. It is so beautiful and so elegant, going to this tea house is like time travelling. Although it is a bit expensive, it is worth the experience. We both decided to have a flower tea, so we each got a glass pot, which had a small flower in it and hot water. As the flower soaked up the water, it started to open, so more flowers can come out of it. It looked like if it was blooming, it was beautiful and tasted really nice too. We also got some mochi, a weird but nice tasting dehydrated (I think) olive, and some quale eggs.
After enjoying a nice tea in a stunning environment, we decided to head back to our hostel, but on the way we stumbled upon a big building which was full of all the souvenirs you can otherwise buy on the streets, and even more. We believe that that's where most of ebay is served from. After discovering two floors of the building (there were more), we decided to head back to our hostel.
At the hostel we cooled off a bit and took a nap, and then we went to visit People's Square and People's Park. There we took a nice walk, and found a K Mall (Korean Mall), where we went into out of curiosity. There was a huge arcade game place, where we looked around. People left from there with big bags of stuffed animals, and we also witnessed a guy beating a basketball game, where he hit the hoop over 700 times in a really short time, it was crazy.
Then we headed back to East Nanjing Road to meet Tilda, our Chinese friend who studied in Sønderborg. We went out for hot pot with her, so this time she could show us how it is done properly. It was absolutely delicious. Then we took a walk with her to the Bund, and then we had a few beers at our Hostel with her, which was super cozy, and it was really nice to see Tilda again.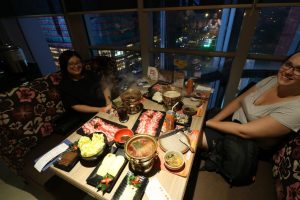 Now it's quite late, and tomorrow is our last full day in Shanghai, before heading back to Beijing and flying home.
Love,
Eszti & Simon