This morning we got up really early to take a last walk to the Bund. We were there by 6.30. It was super nice without the millions of tourists, only the locals were doing their morning work out there. After admiring the view for a while, we decided to hunt for some breakfast, and then headed back to the hostel. We followed East Nanjing Road towards the hostel, the shopping street which is usually full of people, but this morning it was peaceful and only the locals were doing their morning tai chi and dance there.
After sleeping a bit more (we are definitely not morning people) and packing our things, we checked out and took the train back to Beijing. Smooth ride as always. We left from Shanghai at 14.00 and we were in Beijing at 18.50. The hostel we are staying in tonight is beautiful. It's on a tiny hutong, like a hidden gem. When you step in from that tiny alley, it is like a little paradise.
We had dinner at a barbeque place, where there were charcoal grills built in the middle of the tables. First, we choose our meats and vegetables, and then they started the grill. A waitress grilled the meat we ordered to perfection, then they also grilled a cheesy sweet potato for us, and afterwards we had to grill our vegetables. It naturally came with dipping sauces. It was absolutely delicious.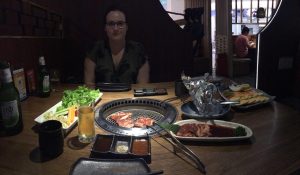 We are enjoying our last Chinese beer while writing this post in our gorgeous last hostel on our last night in China. Our plane is leaving at 14.50 tomorrow local time (9.50 CET), and we should be landing around 19.00 CET. We loved our little trip here, it was definitely a great experience. We saw so many things, we tried so many delicious foods, we walked amounts we are not used to and we got to know the Chinese culture a little better. We broke stereotypes and we can also confirm some, but one thing is for sure: I personally felt safer here, than in any other European capital city so far, and China definitely has lot more to offer than a lot of people think. It is a country of contrasts, and everybody can find what fits their taste. It felt amazing to set our feet on the Great Wall, seeing and experiencing something that so far was just a nice photo on a computer or in books. It was liberating to bike around on the city wall of Xi'an. Finally, it was absolutely jaw dropping to experience the view of the Pudong in Shanghai in real life.
This was only a tiny part of China though, so I am sure we will be back for new adventures. Just consider, that this country is almost as big as whole Europe, and there are more people living here. Both in Beijing and Shanghai there are about twice as many people living than in Hungary or about four times as many as Denmark, and in Xi'an there are almost as many people living as in Hungary and more than in Denmark.
We might be back with some posts about reflections, thoughts and suggestions for those who are planning to visit China, or for those who are just interested.
Love,
Eszti & Simon