After a good long sleep, we decided to attempt to get up early on our first whole day in Beijing. It took a bit longer than anticipated to get ready, so we started with breakfast at the partner-café next door to our hostel. A simple complimentary breakfast is included every morning, but we decided we would like some coffee too. Eszti would like an iced coffee, and order something that looked like that, but with slight confusion we also managed to make my normal "Americana" coffee into an ice coffee, which here in China just means a cup of coffee with ice cubes – not exactly what I expected.
As we had finished our breakfast, gotten packed and covered ourselves in sunscreen, it was time to leave. First stop for us today; The Forbidden City. The Forbidden City was the imperial palace from the mid-Ming Dynasty (1368-1644) to the end of the Qing Dynasty (1644-1912) in 1912. In its days as imperial palace it was, as the name suggests, a place forbidden for normal people. It wasn't until the 1920s the palace opened its doors to the general public like it is today. We have equipped ourselves with multiple apps on our phones to make it a bit easier to get around, which made it very easy for us to find our way to The Forbidden City main entrance. When we came up from the metro, we met a huge line to go through another security checkpoint, but at least this time it looked right (although it later turned out we could have used the first one). When we finally managed to make it to the front of the palace, we were approached by an English-speaking person, who showed us an alternative entrance to skip some of the lines. We started walking towards where he showed us, and he followed. He seemed genuine, so we didn't think much of it. On the way, he showed us a small art exhibition, and tried to sell us some small paintings. First at 150 yuan/piece, then 200 yuan for 2 and lastly down to 160 yuan for 2 (we later found some paintings that looked almost identical for about 10-15 yuan in a giftshop). We were however not interested, and made our way back out to the ticket booth, only to discover, that there was not access to the Forbidden City from this entrance. Before we turned around he was gone, but at least he didn't manage to get any money from us – just waste our time.
We proceeded through the majestic entrance gates of the forbidden city until we finally made it to the actual entrance of the palace. We find an information office, but as we entered through the door, a screen was just set up to explain, that there was sold out for the day, as 80,000 people had already entered. Slightly annoyed that we weren't aware of this, we made our way out of the palace.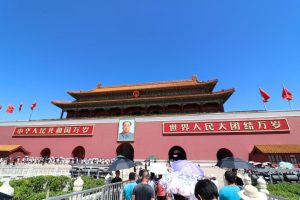 Having spent almost three hours attempting to enter the Forbidden City, we decided to look for places to have lunch. We found the entrance to a park, Beihai Park, in which we quickly found a nice looking place to have lunch, and although there we no pictures they did have an English menu, that we managed to order some food from. In the middle if our lunch, that we were enjoying outside by the water surrounding Jade Flower Island inside Beihai Park, we suddenly heard some Chinese guy yelling at a waitress from the restaurant. She brought who we assumed was the manager and all of a sudden it escalated to the guest wanting to fight the manager. People tried to separate the two, but the angry guest kept wanting to fight the manager all the way through to restaurant to the front, where they continued. From where Eszti was sitting, it looked like he got angry that he couldn't smoke by the restaurant, even though the entire park seemed to be a non-smoking area.
Having finished our delicious Kung Pao Chicken with rice and a beef soup, we continued to climb the Jade Flower Island through many beautiful temples and pavilions and eventually we made it to the White Pagoda, which is a big white tower on top of which a small buddha sits. A fantastic view of the central parts of Beijing, including the Forbidden City from here. Before we came, I had the idea, that Beijing was more dense with buildings, and in particular big multi-story buildings, but at least in the inner parts in which we have walked today, we so no more than one, two or maybe three story buildings and lots of parks, green areas and trees.
We proceeded down from the white pagoda, and continued through Beihai park, exiting at the north end. As it was only around 15:00, we decided to go and check out The Temple of Heaven. We entered through the east gate of the huge 2.76 km2 park, where we quite quickly found a lot of locals enjoying themselves in the park by a big group of people singing, groups of people playing board games and doing sports.
We walked towards the center of the palace, where we came to the Hall of Prayer for Good Harvests, a big circular building in which the Emperor prayed for good harvests. We then walked south to the Imperial Vault of heaven, which is a smaller round building that resembles the Hall of Prayer for Good Harvests, but smaller. It is surrounded by a circular wall, which has a perfectly smooth surface and curvature to function as an echo wall, meaning that two people could talk to each other from the east and west side of the wall respectively, if the both faced north.
From here we continued towards the Circular Mound Altar, which was used for making sacrifices in connection with the prayer for good harvests ceremony. The whole Temple of Heavens has a lot of symbolism, as a circle represents the heaven and a square represents the earth. All the buildings are therefore round, surrounded by a square outer wall. The Circular Mound Altar has a middle stone, surrounded by 9 tiles in the first layer, 18 tiles in the next and so on until 99 tiles in the out-most layer. This is because 9 is the luckiest one-digit number in china, and all symmetry must therefore somehow be related to the number 9.
At last we had a look at some of the gardens in the park, before making our way back to our hostel. It had been a long and warm day, so we needed a short break before going out for dinner. We are now back in our room, and with recommendation from the hostel, we are now planning on visiting the Forbidden City tomorrow morning much earlier.
Love,
Eszti & Simon